Please fill in this form to express your interest in becoming an Anglo-Continental Host Family.
The information you provide will be treated in strict confidence.
If you already have an Homestay account, please log in.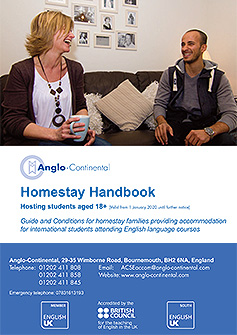 Homestay Handbook for Adults 2020
Hosting students aged 18+ (Valid from 1 January 2020 until further notice).
Guide and Conditions for Homestay families providing accommodation for international students attending English languages courses.
Download (PDF)