Public transport in Bournemouth
More Buses
The best way for students to purchase tickets is directly from More Bus by downloading the Morebus app onto their mobile phone: https://www.morebus.co.uk/app A credit/debit card will be needed to make the purchase. Weekly tickets are also available from the bus driver, with contactless or cash payment.
m1/m2 only
Unlimited travel on any m1 and m2 bus which run between Poole, Westbourne, Bournemouth, Castlepoint/Southbourne.
| | | | |
| --- | --- | --- | --- |
| m1/m2 only | 7 days | 30 days | 90 days |
| morebus app | £15.00 | £57.00 | £155.00 |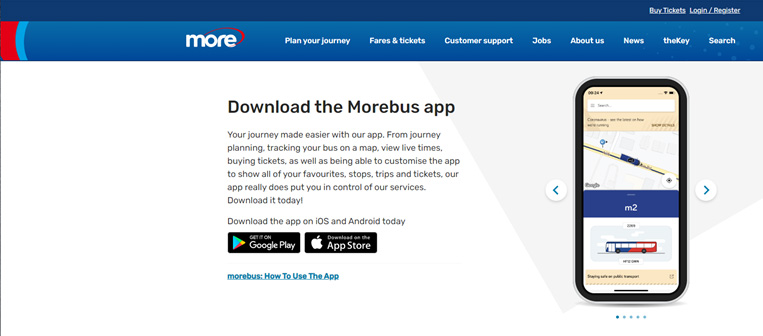 Taxis
We have special arrangements with MOBILE RADIO CARS to have cars available at the bus station in Bournemouth (adjacent to the Railway Station) to take you to your accommodation.
Mobile Radio Cars' Telephone no: 01202 51 80 00
Approximate cost of a taxi: £ 10 to £15.
Car Hire
For those who require their own transport there are many reliable Car Hire companies in Bournemouth. Our Student Services staff will be pleased to advise you.
Driving Licences issued by member-states of the European Economic Area (European Community countries plus Liechtenstein, Iceland and Norway) are valid in Great Britain. Students from other countries who have valid full licences or International Driving Permits may normally drive in Britain for up to one year without further formality.
It is important to note that it is a serious offence to drive any kind of vehicle without a driving licence, a vehicle licence and a motor insurance policy valid in the United Kingdom.
Cycle Hire
Many students find it most convenient to hire bicycles for the duration of their courses. Our Student Services staff will be pleased to make the arrangements for you.
Beryl bikes and e-scooters are a great way for students to get around town. Download the app and start your ride. ​​​​​​​Beryl Bikes
Rail Services
Bournemouth is just 100 minutes away from London by train. Trains run every half-hour throughout the day and evening.