Can you provide quality homestay family accommodation for international students?
At Anglo-Continental, our primary concern is that the student's homestay in Bournemouth is a happy experience. Hosting a student is an extremely rewarding experience for everyone in the family. New and existing Anglo-Continental homestay families can login to our Homestay website which includes information about the school and our current rates. If you do not have a password, please fill in the Online Homestay Application Form below to apply.
Quick Homestay Enquiry Form Online Homestay Application Form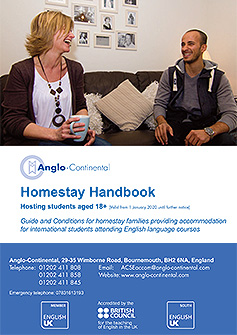 Homestay Handbook for students aged 18+ 2023
Hosting students aged 18+ (Valid from 1 January 2023 until further notice).
Guide and Conditions for Homestay families providing accommodation for international students attending English languages courses.
Download Handbook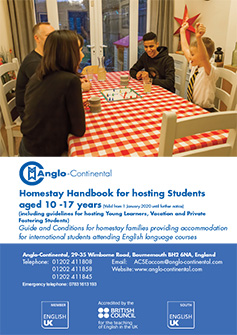 Homestay Handbook for Students aged 10-17 years old 2023
Homestay Handbook for Young Learners - students aged 10-17 years including guidelines for hosting Young Learners, Vacation and Private Fostering students.
Download Handbook
Downloadable Documents
Downloadable Homestay Application Form
Fire Escape Plan Template
Homestay Risk Assessment
Children's Act Declaration
English UK Code of Practice