Course Content, Dates and Fees
Anglo-Continental is an accredited English language teaching organisation, founded in 1950. We have been teaching English for Aviation – particularly for Pilots and Air Traffic Controllers – since 1971. Since the introduction of the ICAO language proficiency requirements, we have also developed a range of courses specifically designed to assist aviation organisations and individuals in achieving the mandatory ICAO Level 4 (Operational).
Meet the Aviation English Team
---
Test of English for Aviation Personnel (TEAP)
Anglo-Continental also offers a Test of English for Aviation Personnel (TEAP) which is widely used to assess the language competence of pilots and air traffic controllers in accordance with the ICAO Language Proficiency Rating Scale. Aviation personnel and/or their sponsors are then able to determine a training programme with more confidence.
More about the TEAP
---
Study Travel Magazine: High-Flying English Article
Anglo-Continental has been featured in Study Travel Magazine in the spotlight article, "High-Flying English"!
---
Anglo-Continental delivers a speech at the Istanbul Flight Training Exhibition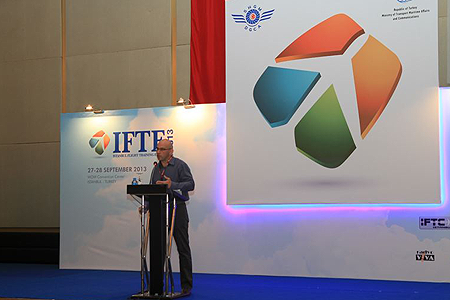 Anglo-Continental's Head of Professional Training, Mr Jon Underwood, delivered a speech on "Professionalism in Aviation Language Training" at the Istanbul Flight Training Exhibition in September, promoting the adoption and use of best practices for both aviation English training providers and teachers of aviation English.
---
ICAO Language Proficiency Standards
The International Civil Aviation Organisation (ICAO) grades English Language performance on a scale of 1 to 6:
Level 1: Pre-elementary
Level 2: Elementary
Level 3: Pre-Operational
Level 4: Operational
Level 5: Extended
Level 6: Expert
In order to conform with ICAO Language Proficiency requirements, Pilots, Air Traffic Controllers and all others who use English in R/T communication on international routes must be at ICAO English Language Level 4 (Operational) or above. This must be confirmed by successful completion of an airline industry approved test.
Those who are assessed at ICAO Level 4 must be re-tested every three years. Those who fail may not be licensed to operate on international routes.
---
ICAO Language Proficiency Requirements
Appendix A (Annex 1) of ICAO Doc 9835, which sets out the language proficiency requirements, states that pilots, air traffic controllers and aeronautical station operators shall demonstrate the ability to speak and understand the language used for radiotelephony communications to the level specified in the Appendix. The six descriptors:
Pronunciation
Structure
Vocabulary
Fluency
Comprehension
Interaction
All six descriptors must be met at any given level for a candidate to be rated as having attained that level.
Download ICAO Language Proficiency Rating Scale