Current Job Opportunities
Marketing Assistant
Do you speak Portuguese, Chinese, Turkish, Korean, French, German or Italian?
The successful applicants will be working as part of the Marketing department on a part-time basis, responsible for contacting agents and promoting Anglo-Continental's English language programmes.
Proven sales experience is essential as well as native/advanced level speaking and writing skills in Portuguese, Chinese, Turkish, Korean, French, German or Italian .
In order for us to process your application further, please submit a copy of your CV to Jonathan Jeffery – Personnel and Student Administration Manager, Anglo-Continental School of English, 29-35 Wimborne Road, Bournemouth BH2 6NA. Email: jjeffery@anglo-continental.com
Job Types: Part-time, Fixed term contract
Contract length: 6 months
Part-time hours: 8-15 per week
Salary: £10.00-£12.00 per hour
---
Earn an extra income by hosting international students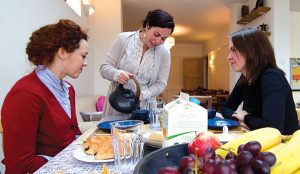 Can you provide quality homestay family accommodation for international students?
Hosting an international student is an extremely rewarding experience for everyone in the family. The rent a room scheme lets you earn up to a threshold of £7,500 per year tax-free from letting out furnished accommodation in your home. Contact us today for more information about hosting our students.
Apply now
---
Equal Opportunities Disclaimer
The Anglo-Continental Educational Group is an equal opportunity employer and it is the organisation's policy to treat job applicants and employees in the same way, regardless of their race, colour, religion, nationality, ethnic origin, pregnancy, maternity, disability, sex, sexual orientation, gender reassignment, age or marital/civil partnership status. Prospective applicants from abroad should only apply if they are legally eligible for employment in the UK. Suitable applicants should be from a member country of the European Economic Area or Commonwealth, or have already obtained a visa allowing entry into the UK and permitting employment. The Anglo-Continental Educational Group does not apply for work permits for prospective employees. Download our full Equal Opportunities Policy
---
Safeguarding (Child and Adult at Risk Protection Policy)
As part of our safeguarding policy, ALL potential candidates when being invited to participate in a face-to-face, telephone or skype interview are given the following information. All temporary staff will now be asked to pay for an Enhanced DBS check which Anglo-Continental will carry out. The current cost is £50 and this amount will be deducted from their first salary payment. This check is valid for three years. Anglo-Continental will then pay for any further checks if required.
Download our Safeguarding Policy
Anglo-Continental accepts students under the age of 18 years and the law classifies these young people as children. As a consequence, Anglo-Continental has implemented a number of safeguarding systems and procedures during the recruitment process. Potential employees are informed that references will be followed up; all gaps in CVs must be explained satisfactorily; proof of identity and qualifications will be required; reference requests will ask specifically whether there is any reason that they should not be employed in situations where they have responsibility for, or access to, persons under 18 years of age. In the case of temporary staff, the cost of the enhanced DBS check will be deducted from their first salary. Staff are reminded that it is a criminal offence to provide false information. In addition, interviews will include questions that probe candidate's attitudes to safeguarding children. All staff will be required to sign a declaration that they have not been convicted of a crime against a child or a vulnerable adult.
---
Harassment and Bullying
Download our full Harassment and Bully Policy