Anglo-Continental has training and meeting rooms to hire in Bournemouth
Training room type, capacity and prices 2023
Training rooms available at Anglo-Continental for courses, conferences, meetings and events:
• Lecture theatre (up to 100) £86 for up to 4 hours thereafter £21 each extra hour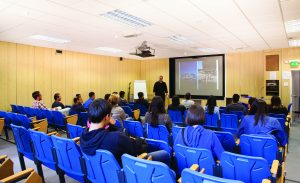 • Pavilion Building (up to 70) £83 for up to 4 hours thereafter £20 each extra hour
• Common Room (up to 50) £71 for up to 4 hours thereafter £18 each extra hour
• Classroom (up to 20) £58 for up to 4 hours thereafter £16 each extra hour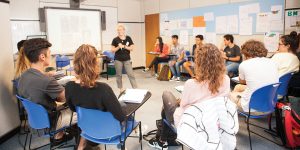 • Student Centre (up to 200) – Price on application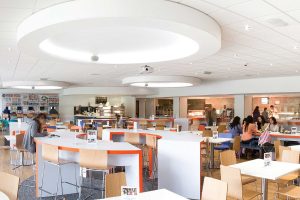 • Conference/meeting room (up to 12) – Price on application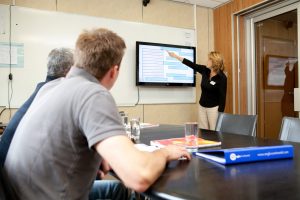 These prices are valid from 08.30 hours to 18.00 hours Monday to Friday excluding public holidays. Additional fees will apply to room rental requirements outside these times and at the weekend/public holidays for out-of-hours staffing. The first hour will be charged at £62 and £31 for each additional hour.
What is included?
• Complimentary Wi-Fi
• Free Parking (Subject to availability)
• Projector and screen (Student Centre, Lecture Theatre, Common Room)
• Whiteboard and pens
Why choose us?
Anglo-Continental is centrally located five minutes from Bournemouth Square in the centre of Bournemouth.
Anglo-Continental is set in spacious grounds with award-winning gardens. Anglo-Continental offers modern facilities including a state-of-the-art Student Centre facility with full presentation capabilities, a new sound system and flexible catering options for your training day or event. Hot meal and salad from £ 7.50.
Anglo-Continental also offers 70 classrooms, as well as a lecture theatre venue with seating for up to 100 delegates and event and presentation space in our new Pavilion building facility and our Common Room venue.
Anglo-Continental can offer a relaxing atmosphere for your training event with self-service tea, coffee and refreshments. Further catering options, including full dining options, are available on request.
Book a Room
Contact us?
Contact us to discuss your room hire options and to arrange a tour of our campus and facilities or to make a booking!
Email: roomhire@anglo-continental.com
Telephone: 01202 411809
Anglo-Continental
29-35 Wimborne Road, Bournemouth
BH2 6NA, England